Ingredients: Camel Milk
All-natural, delicious camel milk shipped frozen directly to your door!
Grade-A camel milk from the healthiest and most loved camels in the USA.
Flash pasteurized to maintain the natural nutritional properties of the milk.
Ethically produced to the highest standards.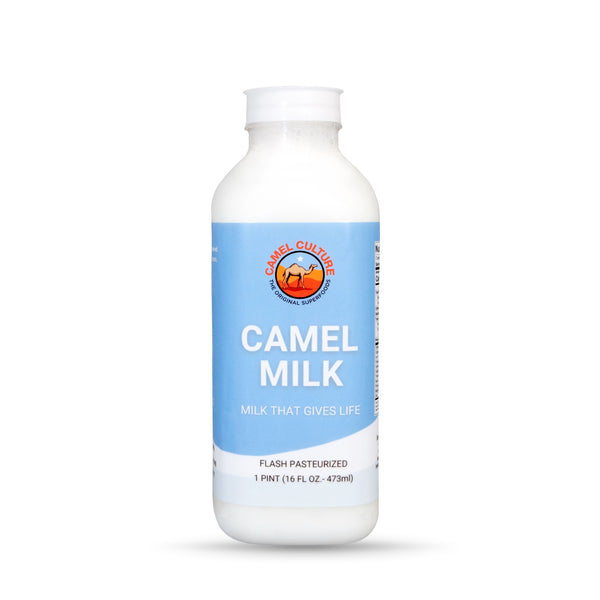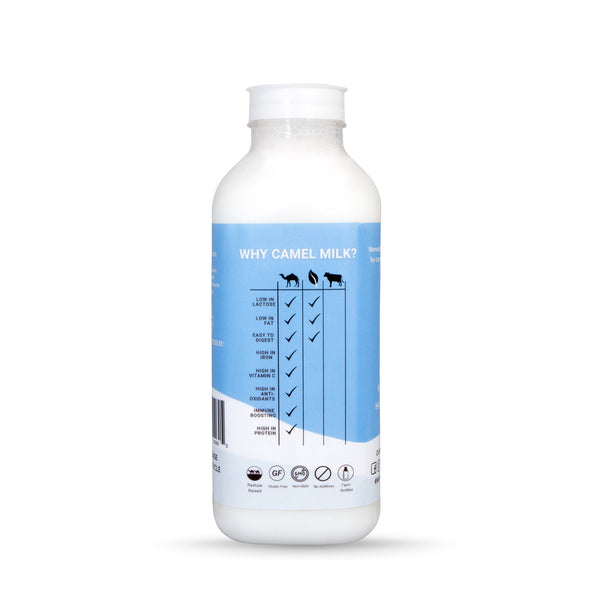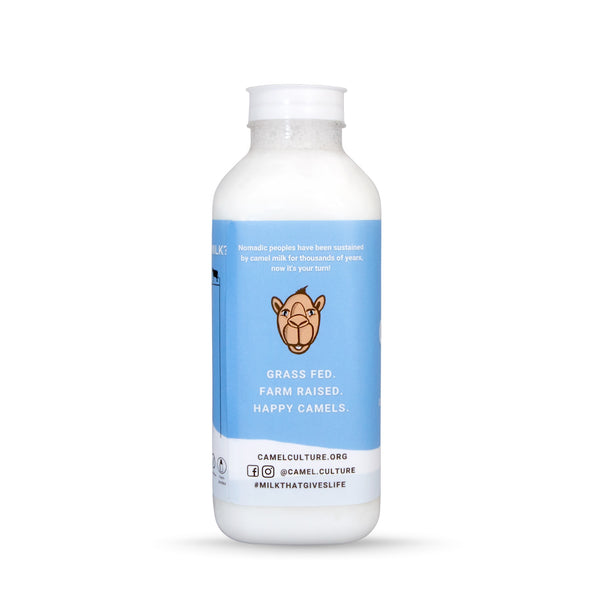 HEALTH BENEFITS:
• Non-Allergenic - low in lactose and casein
• Low in saturated fats
• 10x more iron and 3x more vitamin C than cows milk
• Higher than cows milk in calcium, vitamin A, B, D, E, rare proteins, & antioxidants
• Low in cholesterol
• High in unsaturated fatty acids
• Easy to digest and great for gut health
• Gluten-free
• No added sugar
• No hormones, antibiotics, additives, or preservatives
• Natural probiotic
• Nutritionally more similar to human mother's milk than any other dairy milk!
Learn More about the Benefits of Camel Milk
SUBSCRIBE & SAVE 20%:
You have enough to worry about!
Set up a recurring camel milk order, AND FORGET IT!
Sign-up and receive a 20% discount on every order!
You can set up a reoccurring order that will automatically ship directly to your door weekly or monthly!
You can manage your account, change your order, pause, or cancel anytime.
How to Sign Up:
1. Click the "Subscribe & Save" Button above "Add to Cart" to the right.
2. Set up our order (you can change your order, pause, or cancel anytime).
3. Place your recurring order... and forget it!
SHIPPING:
To maintain freshness, milk is shipped frozen in a secure styrofoam cooler packed with dry ice or ice packs.
All milk ships fresh from our farm each week on Monday or Tuesday.
Shipment tracking starts from the time the milk is shipped, NOT from the time the order is placed.
After your shipment of frozen camel milk arrives, please store in the freezer until ready to consume.
Frozen milk can stay in the freezer for up to 6 months. Once it is thawed out, it is best to consume the milk within 3 weeks.
SHAKE WELL PRIOR TO DRINKING! SEPARATION IS VERY NATURAL. 
Please contact us if you have any questions.
More Information about Shipping
RETURN POLICY:
• We love our customers and want to make sure you are treated fairly! If an issue is our fault, we will make it right by either replacing the item or giving you a full refund! 
• Perishable food products cannot be returned, but we'll do whatever it takes to make sure you're happy and treated fairly! 
• If you receive your product and it is damaged or spoiled, please email us at info@camelculture.org, or call (720)-515-4746.
▻ Email us a picture of the damaged product (and packaging), as well as a description of the issue.
More Information about Returns & Refunds
FAQ: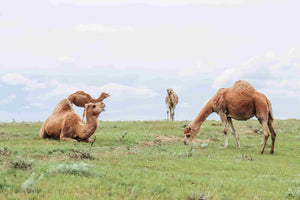 Largest Camel Dairy in the USA
Enjoy fresh camel milk from our farm shipped directly to your door! Our milk is shipped frozen with a shelf-life of 6 months.
Learn More
Easily digest!
I just love that it helps me with my digestive issue (health benefit)! The aftertaste of iron doesn't bother me at all; it's nutritious! Thanks, camel culture!
Thanks for the honest review, Agnes! We really appreciate it!
amazing
tastes great . I am amazed by the health benefits . I hav my family enjoying this milk.thank you
Glad your family likes it!
Great Company!
This was our first time trying camel's milk. The delivery process was amazing and the product came partially frozen, as expected. Honestly it didn't taste as great as I'd hoped (not sweet, a little noxious), but so much care had been taken with the packaging that I think that's likely our personal preference rather than the milk itself. Consumers beware that camel's milk isn't sweet for everyone! But there's no doubt that the quality produced by this specific company is superb.
Best milk quality
Im using this for last 6 months i get the best quality and i love it
We love our long time customers! Thanks for being part of the herd.
Really good stuff
Firstly, I must say that the delivery process was very efficient and the milk arrived at my doorstep in a timely manner. The packaging was very sturdy and secure, ensuring that the milk was well-protected during transit.
I was also impressed with the care taken in maintaining the temperature of the milk. It was delivered chilled and remained at the perfect temperature throughout the delivery process.
As for the taste of the milk itself, it was absolutely delicious. The rich and creamy texture coupled with a slightly sweet taste made for a delightful drinking experience. I could tell that the milk was of high quality and had been carefully produced.
Overall, I would highly recommend this 12oz camel milk to anyone looking for a tasty and nutritious beverage. The delivery process was top-notch, and the milk itself exceeded my expectations in terms of taste and quality.
Fares, Thanks for this review!