Ingredients: Whole Camel Milk
Nothing Added. Nothing Removed.
The Perfect Dairy Alternative.
Made from 100% pure camel milk.

World-renowned drying and pasteurization methods gently protect the nutritional properties of the milk.

From the Royal Family Farm in Dubai!

18 month shelf-life.

Great for baking!

Mixes well with water, coffee, tea, smoothies, or protein shakes!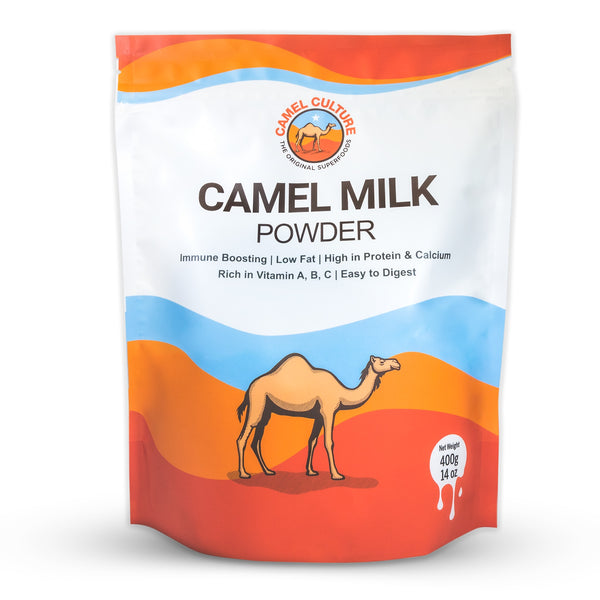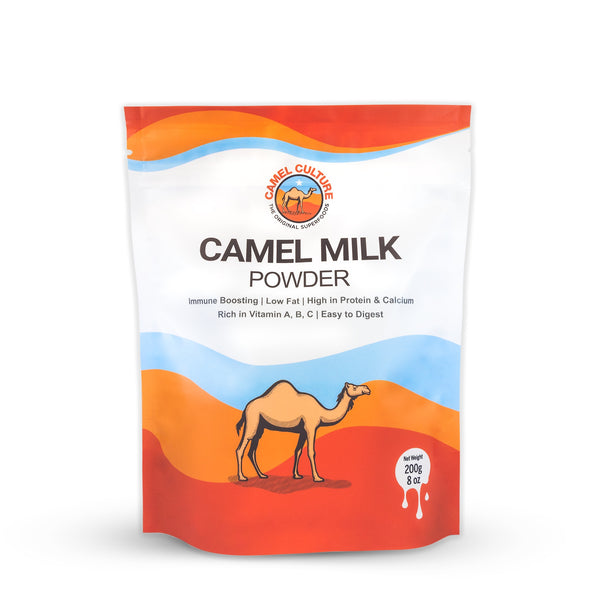 DIRECTIONS FOR USE:
To make one glass of camel milk, add 1-2 Tablespoons of Dry Camel Milk Powder to 8 oz. of water and stir gently. Or add a spoonful to your coffee, tea, smoothies, or protein shakes!
Increased shelf life and 12 month storage! 
Great for baking!
Prepared Camel Milk should be refrigerated and consumed within 24 hours.
Please store in a cool, dry place.
HEALTH BENEFITS:
• Non-Allergenic - low in lactose and casein
• Low in saturated fats
• 10x more iron and 3x more vitamin C than cows milk
• Higher than cows milk in calcium, vitamin A, B, D, E, rare proteins, & antioxidants
• Low in cholesterol
• High in unsaturated fatty acids
• Easy to digest and great for gut health
• Gluten-free
• No added sugar
• No hormones, antibiotics, additives, or preservatives
• Natural probiotic
• Nutritionally more similar to human mother's milk than any other dairy milk!
Learn More about the Benefits of Camel Milk
SHIPPING:
We offer fast and reliable shipping directly to your home! Packaged in a secure, eco-friendly package to maintain the freshness of our camel milk powder.
More Information about Shipping
SUBSCRIBE & SAVE 20%:
You have enough to worry about!
Set up a recurring camel milk order, AND FORGET IT!
Sign-up and receive a 20% discount on every order!
You can set up a reoccurring order that will automatically ship directly to your door weekly or monthly!
You can manage your account, change your order, pause, or cancel anytime.
How to Sign Up:
1. Click the "Subscribe & Save" Button above "Add to Cart" to the right.
2. Set up our order (you can change your order, pause, or cancel anytime).
3. Place your recurring order... and forget it!
RETURN POLICY:
• We love our customers and want to make sure you are treated fairly! If an issue is our fault, we will make it right by either replacing the item or giving you a full refund! 
• Perishable food products cannot be returned, but we'll do whatever it takes to make sure you're happy and treated fairly! 
• If you receive your product and it is damaged or spoiled, please email us at info@camelculture.org, or call (720)-515-4746.
▻ Email us a picture of the damaged product (and packaging), as well as a description of the issue.
More Information about Returns & Refunds
FAQ:
Must try!
We have been buying dry camel milk powder for a while now. It dissolves easily and taste yummy. We put it in everything we can, when we cook and in my coffee! Our tummies are much happier too!
We are so glad!! Thank you for sharing!
Best camel milk powder
This is the best camel milk powder you can find. Buy with confident.
Amazing Taste
This powder is delicious!! I especially love it cold. Waaaaay better than I thought it would be.
Almost like baby's formula
Great All Around Customer Service and Product.
I placed my order and emailed company to see if my order could be shipped on the next ship date, since I ordered late. Josey emailed me back and order was to be shipped. This is my first time using camel's milk and I simply love, love. Thanks fro the great service!!!